Selena Gomez Makes First Public Appearance After Justin Bieber's Wedding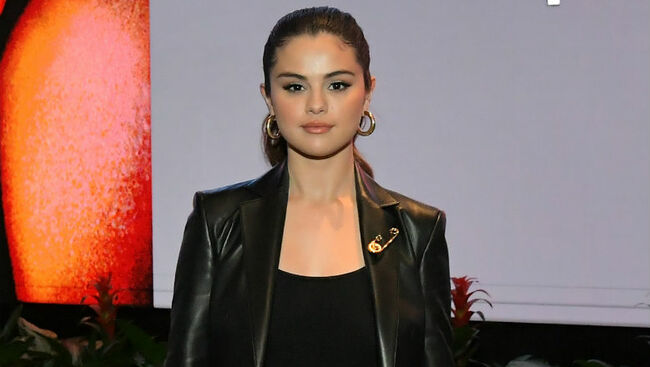 After ex Justin Bieber tied the knot in a second wedding to Hailey Baldwin, Selena Gomez seemed unfazed by her former flame's romantic milestone. Just a day later, she was seen leaving the studio and on Wednesday (October 2), she appeared focused on her new Netflix documentary series, Living Undocumented.
Last night, the pop titan, 27, took to the L.A. premiere of the new series, which profiles eight immigrant families in the United States. For the outing, she rocked an all-black ensemble with a Versace leather jacket and mini skirt. As per fan footage from the event, Gomez gave a speech at the screening, sending love to the doc subjects for putting "their life at risk [to share] your stories." "I'm very grateful that we got to do this," she told the audience. "... I just want to thank the families. Honestly, that's everything to me. I'm very proud of all of them." Among the stars that attended the premiere included Rosario Dawson, Grey's Anatomy's Giacomo Gianniotti, Scandal's Guillermo Diaz and Riverdale's Hayley Law.
Earlier this week, Gomez penned an op-ed for TIME about immigration in the country, while recounting her own family's border-crossing experience. "In the 1970s, my aunt crossed the border from Mexico to the United States hidden in the back of a truck," she explained. "My grandparents followed, and my father was born in Texas soon after. In 1992, I was born a U.S. citizen thanks to their bravery and sacrifice. Over the past four decades, members of my family have worked hard to gain United States citizenship. Undocumented immigration is an issue I think about every day, and I never forget how blessed I am to have been born in this country thanks to my family and the grace of circumstance."